There is not finishing a race, there is even finishing dead last.  What about being the last  on the course?
Picture it, Boston 2006.  It's June, and late spring has descended on the city.  Normally, this means clear skies, green trees, and flowers galore.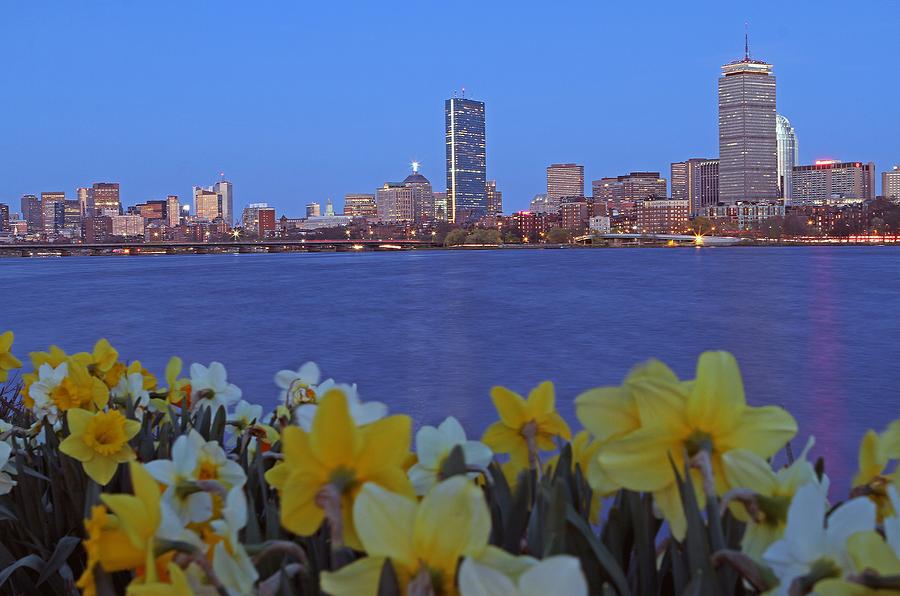 But not on  the third of June in 2006.  On June 3rd, Boston was in the midst of what one might call a Nor'easter.  Torrential rain and wind plagued the city.   Not ideal conditions for a race that runs partially along the harbor.  Not ideal conditions for any race at all.
In 2006 I had only been running off and on for about a year.  I had a couple of 5K's under my belt, so when my (at the time) flatmate suggested I run the Harpoon 5 miler, I figured why not.
At the time most of my running was done on the treadmill.  I didn't really feel comfortable running outside during the cold winter and chilly spring, so by the time June rolled around I had only completed a few short runs outside.  Not ideal, but not really that much of an issue on a flat course.
The morning of the race I waffled on going.  It was absolutely pouring.  I heard my flatmate getting ready and I figured I'd feel like a wuss if I didn't go.  So I donned my sports bra, a tshirt, a hoodie, track pants and windbreaker along with my water resistant New Balance trainers and Boston Red Sox baseball cap.  I drove out to the race in Southie/the Waterfront with my windshield wipers on high.
After I parked and stowed everything in my trunk (this was not weather for phones and iPods) I pinned my race number to my hoodie and headed to the start line.  This is where I realised I was not dressed appropriately in the slightest.  Despite the chill, most people were in as little clothing as possible, some even covered up in bin bags to protect them from the rain.
I was grateful when the race began and I headed out at a good pace to begin with.  I stayed with a pack of runners, but as the rain pelted down on me, I began to slow.  I was soaked through, and the heaviness of all my layers made it difficult to keep up.
People began to pass me; the old and the young.  I was walking now, and not at a fast clip;  I felt like I was walking through molasses in a hurricane.
As I made the loop that ran along the bay I realised that there was no one else on the course.  No other runners.  No walkers.  No race officials.  I tried to pick up my pace, but at that point I knew it was futile.  I could hardly move with my clothes sodden with rainwater.  All I could do at this point was just make my way back, cross the finish line, find my car and drive home.  If only it were that easy.
I knew that the race followed the same route back in as it did out.  However, due to my snail-like pace on the return,  there were no signs, no barriers; no indication that there had been a race at all!
I was defeated- emotionally and physically.  I actually began to cry; I felt rather lost and was unsure if I was even heading in the right direction.   At this point, if there were turtles on the course, they would have passed me.
By the time I got to Black Falcon Avenue I saw a few stray barriers remaining along the side of the road, so I knew I was on the right track.   It seemed like hours had passed when I got back to Harpoon Brewery.
I never crossed the finish line.  
The finish line was gone.
There was no finish line.
The last finisher of the race came in at an hour and 10 minutes.  (I am fairly sure I finished about an hour later.)
I saw people in the beer tents enjoying themselves, eating, drinking, and enjoying themselves despite the weather.  It looked (and sounded) like they had been there for hours.  (They probably had.)  I found a place to return my timing chip and headed as fast as I could to my car.
I'm no stranger to disappointment, but this race experience made me feel hopeless, unathletic, and foolish.  I was also frustrated.  How did the race officials overlook me? I know the weather made conditions arduous; was I neglected on accident?  Was I so insignificant that I was left on my own?  Feelings of inadequacy surrounded me as I drove home.
It was a long time before I had confidence to run in any races again.  The next race I took part in was in June 2011 in Glasgow.
Despite the awful experience I had running the 5 miler, I have tried to learn from my experience.  I make sure I dress appropriately for races and the weather, I train as much as I can, and I  make sure I know general layout of the course before running.
What was your race experience?
When is your next race? (Mine is on the 27th!)